PVC Strip Curtains offer a wide range of physical qualities as a partition material. It has good transparency, highly flexible, prevents loss of temperature and reduces sound / noise pollution.
Typical Applications:
Industrial doors
Flexible partitions
Welding booths
Cold and clean rooms
Heavy duty traffic doors or industrial vehicles and handling equipment
Doorway for refrigerated trucks
Weather and impact protection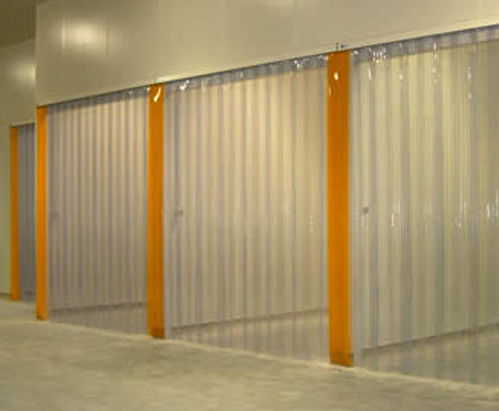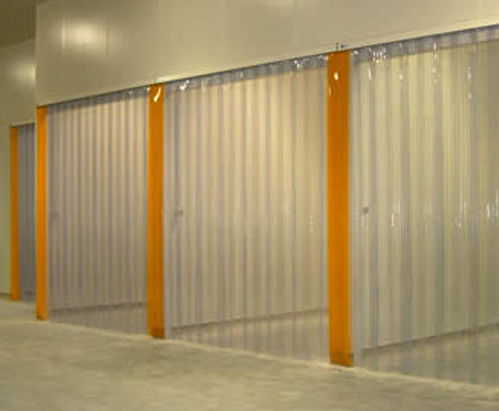 Various Grades and Colors:
Polar Grade (for freezer applications)
Double Ribbed Surface
Anti-Insect Yellow
Anti-Static Green
Welding Grade Black
Translucent Clear
Opaque White
Features:
Provides safety with its high visibility
Maintains clealiness by blocking dust and debris
Conserves energy by maintaining ambient temperature
Applications:
Cold storage, warehouses, factories, kitchens, area dividers, refrigerated delivery vans, etc.
PVC Strip Curtains:
2mm x 200mm W x 50M L
2mm x 300mm W x 50M L
3mm x 200mm W x 50M L
3mm x 200mm W x 50M L
PVC Wide Rolls:
0.75mm x 1220mm W x 25M L
1-3mm x 1000mm W x 30M L
Grades: Regular, Polar (Freezer) or Anti-static
Surface: Plain, Double rubbed or frosteed
Colors: Clear, Anti-insect yellow
Bracket: Stainless steel hanging system